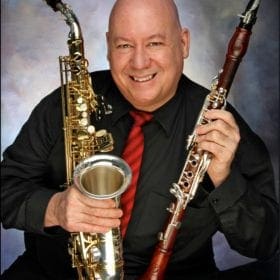 Chuck Currie
"I'm so thankful for the new ears you have given me. Our musical imagination is the most important element in our sound and you have given me a sound that I did not know I could dream of. The Chedeville mouthpieces are a game-changer. I'm simply in love with them."
Chuck Currie, Clarinetist and Saxophonist
Video Gallery
Biography:
Mr. Currie is a Chedeville, Rousseau, JodyJazz, Vandoren, Backun Canada, Selmer and Yanagisawa artist-clinician.   He performs with the Vancouver Island Symphony, the Pacific Symphonic Wind Ensemble, Amici Musica, Sax Noir sax quartet and the Pacific Blackwood bass clarinet quartet.
He has performed at Canadian Music Educator Association conventions, World Association of Bands and Ensembles conferences, North American Saxophone Alliance conferences and at International Clarinet Association Clarinetfests.
A reviewer of the opening concert of the Vancouver 2007 Clarinetfest reported "He did an absolutely amazing job of interpreting the bass clarinet solos in Frank Ticheli's Blue Shades. Never have I heard a bass clarinet shape and bend notes like that…what amazing projection. His A Capella duet with Eddie Daniels in Paganini in Metropolis was equally astonishing."
Chuck teaches at St. George's School and his own Sax Noir Studio and conducts clinics throughout British Columbia. Students have successfully auditioned for national and international ensembles and schools of music. His articles on pedagogy and equipment have been published by Clarinet & Saxophone Magazine, Canadian Winds, and the BC Music Educator's Journal. He is a Canadian Champion for Music Education, a spokesman for the Coalition for Music Education.
Additional Comments from Chuck:
"The game-changing starts with the remarkable Chedeville rubber, a softer and warmer material that adds an incredibly rich glow to the sound. Then comes the excellence of the CNC milling and hand-finishing with expert play-testing.
The larger instruments are more burnished and brawnier than ever and the smaller instruments project a shimmering ringing tone. There is a warm grain and enhanced core to the sonority that is just magic. Both louder and softer dynamics are easier to produce.
Chedeville Saxophone Mouthpieces
My Chedeville RC Alto 3* is the Platonic Ideal of classical alto saxophone mouthpieces. Never have I played a mouthpiece with this much presence, authority, response, and delicacy. I can play more exaggerated and beautiful fortissimos and pianissimos than ever before. I did not give up one iota of the glorious rich tone to gain this control and I'm just ecstatic.
I feel the same about my Chedeville RC Baritone 4, RC Tenor 4* and RC Soprano 3*.
The Baritone is the cello to the Alto viola. In terms of royalty, the Baritone is the King to the Alto's Queen. The Chedeville sound made my beautiful Bari the "King of All the Instruments."
The Prince of our family, the Chedeville tenor mouthpiece, has me playing the Jean-Baptiste Singelée solo repertoire. Late 19th and early 20th Century chamber repertoire is the reason I added saxophone to clarinet while in university, and these mouthpieces make me want to play it all day long.   Singelée wrote these pieces for his friend Adolph Sax, when Sax was the first professor of saxophone at the Paris Conservatoire.
The Soprano is our Princess and Violin. The Chedeville sound is just glorious….so rich and warm and sweet, but still authoritative and with that lovely dark grain that characterizes the French school of classical saxophone.
Chedeville Clarinet Mouthpieces
The Chedeville Umbra mouthpiece's combination of effortless resonance and articulation with a sweet, complex ringing tone is unique. The Umbra is incredibly reed friendly. I can use harder reeds with ease, and they need far less adjustments. My legato is more liquid and every note just pops.  When playing low G long tones, my clarinet vibrates more than ever before…. it's like every tone hole is kissing your fingers.  I love it more every time I put it on my clarinets.
"Elite" is an understatement for the Chedeville Bass Clarinet mouthpiece. I have a great bass clarinet mouthpiece collection, but there is nothing anywhere like these. The instant response, effortless register leaps, shimmering warmth and liquidity in the upper register, chocolate covered caramel in the chalumeau, crystal clear articulation, robust power and pure pianissimos must be heard to be believed.
Finally, the JodyJazz POWER RING is a work of genius. The heavy mass of the ligature lends incredibly rich resonance to the tone, while the limited contact points on the mouthpiece and reed allow for great life in the sound and terrific ease of articulation. I own over a hundred excellent ligatures, and the POWER RING blows them all away.
For more information on Chuck and to read his very informative blog series visit his website below.
Artist's Favorite Chedeville Mouthpieces