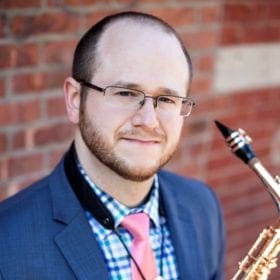 Dr. Scott Litroff
"Choosing the right mouthpiece is perhaps the most important decision regarding equipment for a classical saxophonist." The expressive and technical demands of our repertoire necessitate the use of a mouthpiece that can produce a beautiful tone that is flexible yet reliable. Simply put, the Chedeville line of classical mouthpieces does it all. From soprano to baritone, Chedeville mouthpieces produce a gorgeous, rich tone with incredible ease and enable me to effortlessly interpret any passage. They can handle extremes of dynamics, register, and articulation in a way I have not experienced with any other classical mouthpiece. The consistency between mouthpieces is astounding, and it is a testament to Chedeville's quality control. I highly recommend them to both professionals and students alike. The ultimate goal for a saxophonist should be to realize their individual sound and style, and I feel no limitations in pursuit of that goal when performing on Chedeville mouthpieces."
Dr. Scott Litroff
Assistant Professor of Jazz,
Queensborough Community College at CUNY
Recipient of the 2013 Samuel Baron Prize
Video Gallery
Biography:
Scott Litroff is a saxophonist recognized for his versatility as a performer and educator in both classical and jazz styles. Dr. Litroff performed his solo debut at Lincoln Center's Alice Tully Hall, and has since performed at venues including Weill Hall, Merkin Hall, The DiMenna Center, Yoshi's Club San Francisco, and Jazz Alley in Seattle, as well as venues in Mexico, Thailand, Taiwan, and Japan. He has collaborated with some of the world's finest musicians including Jean-Yves Fourmeau, Albert Julia, Koh Mr. Saxman, Ray Anderson, Bakithi Kumalo, Steve Salerno, Nellie McKay, William Wei-Leng Chen, and has performed under the baton of renowned conductors including George Manahan, Rosen Milanov, Joseph Colaneri, and David Hayes. In addition, Dr. Litroff is an active clinician internationally. He currently serves as Assistant Professor of Jazz at Queensborough Community College at the City University of New York.
Dr. Litroff enjoys collaborating with musicians in a variety of settings, and he has worked extensively in chamber groups across many genres. He is a member of the New York Wind Orchestra, the only professional-level wind ensemble in the NY-metro area and conducted by the renowned clarinetist of Orpheus fame, Hana Kim. Dr. Litroff is the alto saxophonist in the NY-based Convectus Saxophone Quartet. He has commissioned several works for his Aurora Trio (sax, flute, piano), with works by Elliot Bark, David Loeb, and Andriy Lehiky. Scott has recorded three albums with the Oatmeal Jazz Combo, the second album receiving a full-page review by Down Beat Magazine in 2012. Scott also performs with the World Jazz Quintet, incorporating jazz and various world music traditions.
Dr. Litroff's numerous awards and honors include the prestigious 2013 Samuel Baron Prize, the 2012 Ackerman Prize in Music, the 2011 Bob Meyers Award for Excellence in Jazz, as well as First Prize in the Stony Brook University Graduate Concerto Competition, First Prize in the Mannes Concerto Competition, and Two-Time Winner of the Stony Brook Undergraduate Concerto Competition. He is the first saxophonist to have won these concerto competitions in the history of those institutions.
Dr. Litroff received Doctor of Musical Arts and Bachelor of Arts in Music degrees from Stony Brook University and a Master of Music degree from the Mannes College of Music.
Scott Litroff proudly endorses P. Mauriat Saxophones, Legere Reeds, and Silverstein Ligatures, and Chedeville mouthpieces, performing exclusively on this equipment.
Artist's Favorite Chedeville Mouthpieces