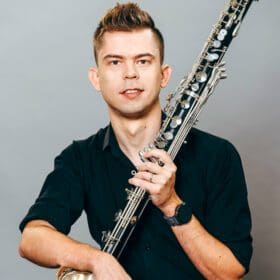 Karol Sikora
"Great mouthpiece – it's Chedeville, light to play like vaudeville. Its sound is the most beautiful and its dynamics are powerful"
Biography:
Karol Sikora was born in Wadowice, where he attended the Primary and Secondary State Music School, studying the clarinet in the class of Bartłomiej Kozina. Karol is a graduate of the Academy of Music in Cracow.  He graduated with honours from the clarinet class of Professor Andrzej Godek. Currently, he is a lecturer in the clarinet class at him maternal Academy.
He is a multiple laureate of international music competitions, as a soloist and chamber musician. Karol Sikora has refined his skills in many master classes under the direction of distinguished musicians, including Florent Heau, Shirley Brill, Jonathan Cohler, Gabor Varga, Nuno Pinto, Kirill Rybakov, David Krakauer, Nina Janßen-Deinzer, Michel Lethiec, François Benda, Eduard Brunner, Olivier Vivares, Jean-Marc Fessard, Arkadiusz Adamski and Aleksander Romański.
Karol is an active orchestral musician, playing with, among others, the National Philharmonic in Warsaw, the Cracow Philharmonic, the Orchestra of the Beethoven Academy, the Cracow Camerata, the Sinfonietta Cracovia. He has played more than ten Polish and worldwide first performances at such festivals as the Warsaw Autumn International Festival of Contemporary Music and the Neue Musik International Festival in Darmstadt.
Karol has performed all over the world in countries such as Poland, France, Italy, Spain, Monaco, Germany, Austria, Switzerland, Sweden, United Arab Emirates, South Korea, Japan and China. He was fortunate to have worked with such famous conductors including Jerzy Maksymiuk, Krzysztof Penderecki, Andrey Boreyko, Alexander Vedernikov, Neville Mariner, Vasily Petrenko.
He has shared the stage with many prestigious soloist, such as Anne-Sophie Mutter, Yulianna Avdeeva, Liya Petrova, Aleksandra Kurzak, Alena Baeva, Bomsori Kim, Makoto Ozone, Nelson Goerner, Nelson Freire, Charles Richard-Hamelin, Nicolas Baldeyrou, Alexander Kantorov.
Karol has received scholarships from the Minister of Science and Higher Education (2013/2014), from Sapere Auso – the Małopolska Scholarship Foundation (2013/2014, 2015/2016), from the Minister of Culture and National Heritage (2015/2016, 2016/2017) and from the Young Poland programme (2017).
In 2016 Karol Sikora was accepted into the Sinfonia Varsovia Academy. In 2017 he joined the Sinfonia Varsovia Orchestra as a clarinetist.
Artist's Favorite Chedeville Mouthpieces