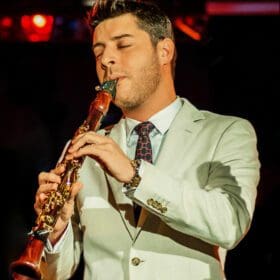 Adrian Galante
"I am thrilled to say that I have finally found the mouthpiece that I have been searching for. The Chedeville Umbra F2 allows me to translate the sound that is in my head through my horn without any interference." 
Video Gallery
Biography:
Adrian Galante is a multifaceted, exciting young Australian jazz clarinetist and pianist with a remarkable command of both instruments far beyond his youth. Possessing a lyrical "vocal-like" quality on the clarinet, his expressive playing exhibits a melancholic romanticism combined with a joyous feeling for swing, bebop, and the blues.  
Adrian's love for Jazz and the American songbook repertoire was ignited at an early age having had the great fortune of traveling to the United States to hear and spend time with jazz greats such as Tony Bennett, Marian McPartland, and Sonny Rollins.
Adrian has performed throughout America, Australia, Europe, and Asia and worked with artists such as James Morrison, Lucky Oceans, Tamir Hendelman, Alan Broadbent, Greta Matassa, Chris McNulty, Ashlin Parker, Alemay Fernandez, Robin Nolan, Eric Hardgrove, Richard Jackson, among others.  
Follow Adrian Galante on Instagram
Watch Adrian Galanta on YouTube
---
"I have had the pleasure of both playing alongside and listening to Adrian Galante. This young man is one of those musicians you can't ignore; he commands the attention of both audience and fellow performers alike with his prodigious technique and flair for presentation. Mostly one must choose between hearing a serious musician or experiencing someone who can connect with the audience, Adrian is that rare person who understands the 'performing' part of performing arts without any compromise in musicianship or passion for the music"
–– James Morrison, Multi-instrumental Jazz musician
---
"Adrian Galante isn't just a hugely gifted, young musician with impeccable technique, monster ears and great pitch. He has something else. That rare, indescribable thing we call magic. With a deep connection to the great American songbook and jazz cannon, artistry like this comes from deep within the soul. It was there very early on with Adrian which might explain why other artists much further along in their journey are so thrilled to share the bandstand with him."
–– Chris McNulty, jazz vocalist-composer, author
Artist's Favorite Chedeville Mouthpieces