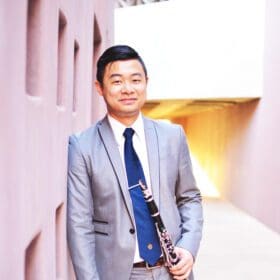 Dr. Jack Liang
"As a contemporary musician, I seek a flexible sound with a wide range of tonal characteristics while maintaining a stable core sound. My Chedeville mouthpiece lets me realize the sound in my head with ease. I always feel like I am in total control of my sound, from extreme dynamic levels to extreme altissimo notes, and all the multiphonics in between."
Video Gallery
Biography:
Dr. Jack Liang is a freelance musician and private teacher in the Greater Vancouver area. Liang regularly performs throughout North America and Europe as a soloist and a member of The Ambassador Trio. He enjoys performing works from a variety of musical styles, with a special interest in contemporary music. His interest in contemporary music has led to the exploration of new sonic and performance possibilities for the clarinet.
Liang's research examines non-articulatory tongue motion during clarinet performance, with a focus on multiphonic production. As part of this research, he created a new multiphonic resource to serve performers, pedagogues, and composers. The resource includes a catalogue of over 600 dyad multiphonics, with detailed strategies for learning to produce each multiphonic.
Liang maintains a private studio offering private lessons and ensemble coachings. He is also a regular guest artist at high schools, colleges, and universities throughout North America offering clinics and masterclasses.
Liang earned a doctorate and master's degree from Arizona State University under the tutelage of Dr. Robert Spring and Dr. Joshua Gardner. He also holds a bachelor's degree from the University of British Columbia where he studied with Cris Inguanti.
Artist's Favorite Chedeville Mouthpieces