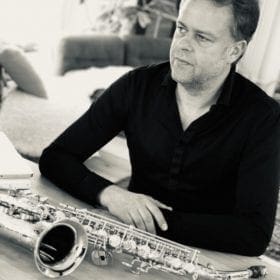 Dieter Kraus
"My Chedeville mouthpiece gives me the possibility to draw almost every musical colour I have in my head. The tonal balance is incredible and gives me the chance to play different styles easily."
Biography:
Dieter Kraus was born in 1972 in Ulm, Germany.  At nine years old he received his first saxophone lesson and then went on to win plenty of competitions during the following next few years, for example "Jugend musiziert".  After receiving a grant for upcoming musicians, Dieter started his studies in saxophone with André Légros at the Richard-Strauss-Konservatorium in Munich in 1992. Five years later he was founding member of "Saxofourte", his first saxophone quartet which won the first price at the International Chamber Music Competition "Gaetano Zinetti" in Verona, Italy, in 1997. Saxofourte has performed on numerous tours including concerts in Syria, the Lebanon and Australia, as well as the World Saxophone Congress in Minneapolis, USA.
At the same time Dieter Kraus started a musical collaboration with the organist Andreas Gräsle which continues to this day. Furthermore he has been invited as a guest player in the main orchestras in Germany, such as the State Operas of Stuttgart and Munich, the State Philharmonic Orchestra Rhineland-Palatinate, the Bavarian Radio Sinfonic Orchestra, just to mention a few.
As a soloist he has been on stage with the orchestras of Ulm, Trier, Giessen, Munich, Warsaw and Katowice (Poland). In 2016 he toured Egypt with the Egyptian composer and speed metal drummer Mohammed Basha. After being a member of several musical projects Dieter Kraus founded the duo "Klangfusion" with the guitarist Uwe Lange in 2016. In 2019 he was a temporary lecturer at the Music Academy Of Nürnberg, Germany.
Artist's Favorite Chedeville Mouthpieces